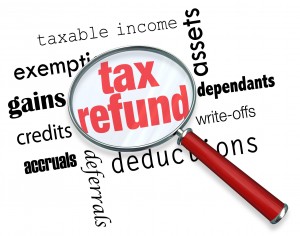 Tax Refund Options
Whether you file before April 15 or after, we're open all year long to help you get the largest refund possible.
There are several different options available when it comes to receiving your tax refund.
You may be wondering which option is best for you. When you file your taxes, you should file electronically. This is called e-filing. You can do this if you use computer software or go to an accountant or a tax preparation business.
Ways to Receive your Refund
By Check
Direct Deposit
IRS Credit
This will help to speed up the time it takes the IRS to review your taxes and send out your refund. If you get a large refund, you should have a spending plan for your refund so you make the most of this extra money. You can begin prepping to file your taxes at the end of the year.
Direct Deposit of refunds began in 1987 and is one of the favored choices for all who file tax returns. You do not have to split your refund deposit up. It is still possible to have it all deposited to one bank account. That option remains on the 1040EZ, 1040A and 1040. It's also available on 1040s filed by nonresident and Puerto Rican taxpayers, as well as self-employed taxpayers who must file the 1040-SS.
You can get more information at (586) 365-2327.
Next Steps…
We are ready to serve you and exceed your expectations.  Contact us for a free evaluation and a quote.